The Big Head
Sometimes we stick our noses into places they shouldn't be. This almost always gets us into trouble. Here's a story about one such incident. The nosy one walked away with the "big head" this time.
The Big Head

In 1967, I was 24 years old living in an apartment in Borger, Texas. My Dad called me one weekend and asked me to go fishing with him at Lake Meredith. He picked me up and he had his dash hound, Hugo, with him. We went to the North side of the lake about a quarter mile from the dam. We had been fishing for about and hour, and we could hear Hugo barking continuously up the hill from us. We headed up the hill and could see Hugo running around and around a mesquite bush still barking. We arrived and there was a five foot rattlesnake coiled up under the bush. My dad got a shovel out of his car and we killed the huge rattlesnake. Hugo came ambling over to us not looking so good. We could see fang marks on his jaw and his head had started swelling already. Sometime during the ordeal, the snake had struck out and injected his venom into Hugo's jaw. We gathered our equipment and headed for the Vet in Borger. By this time, Hugo's head was swelled to the size of a soccer ball. The Vet did his thing and told us he wasn't sure whether or not the dog would live. Hugo just laid around for several days while the swelling went down and slowly recovered. In a couple of weeks he was back to his old self. The next time we went fishing, he left the dog at home.

My Dad, the fisherman, snake killer, dog protector.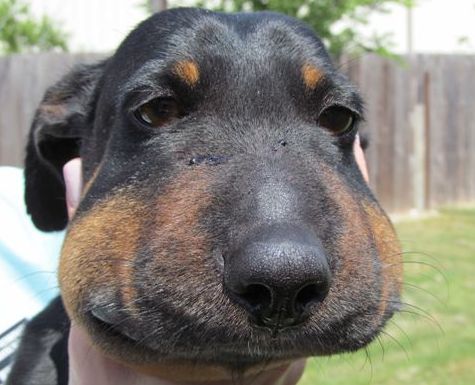 You should have seen my head yesterday.
Thank you for reading The Big Head,
Hawg Jaw Bill