Sooner Toons
.
I'm still drawing a few Bighead toons along when I feel good,
To keep busy late at night when I don't sleep as I should.
I've drawn over 400 colorized toons with Bigheads so fine,
Some say they have gotten some better over the long time.
.
Sooner Toons
.
"Sparky" is a sailor that has watched Popeye cartoons before,
As he thinks spinach will give him those big muscles galore.
I think we all thought that sometimes in our own young lives,
But after a can or two, we decided spinach is worse than chives.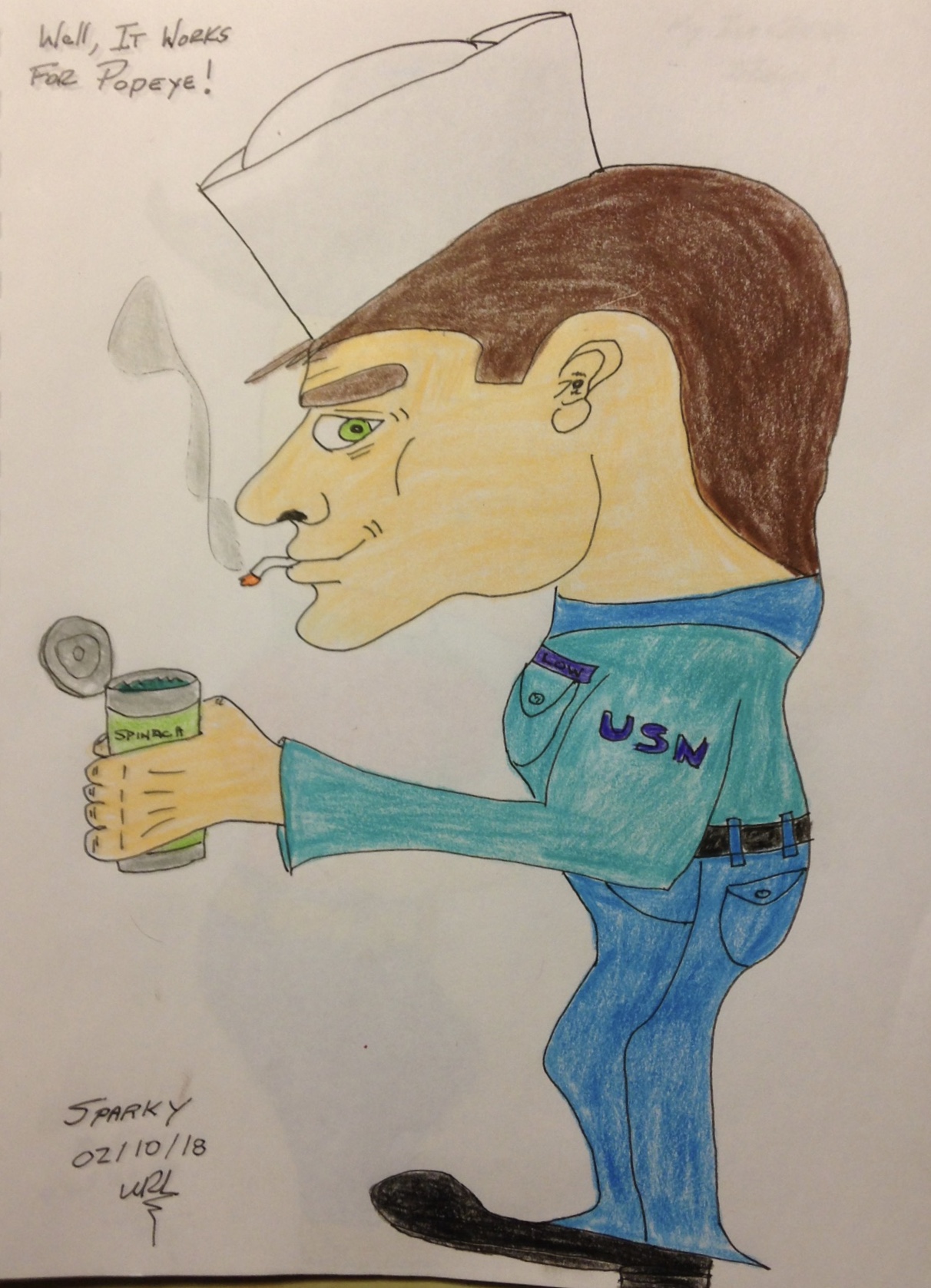 .
"Droopy Lip McCoy" loved to scoop that cold ice cream on in,
With that lower lip of his hanging almost down below his chin.
Sometimes he scoops up so much cold ice cream in with his lip,
That he gets a bad pain between his eyes hurting that won't quit.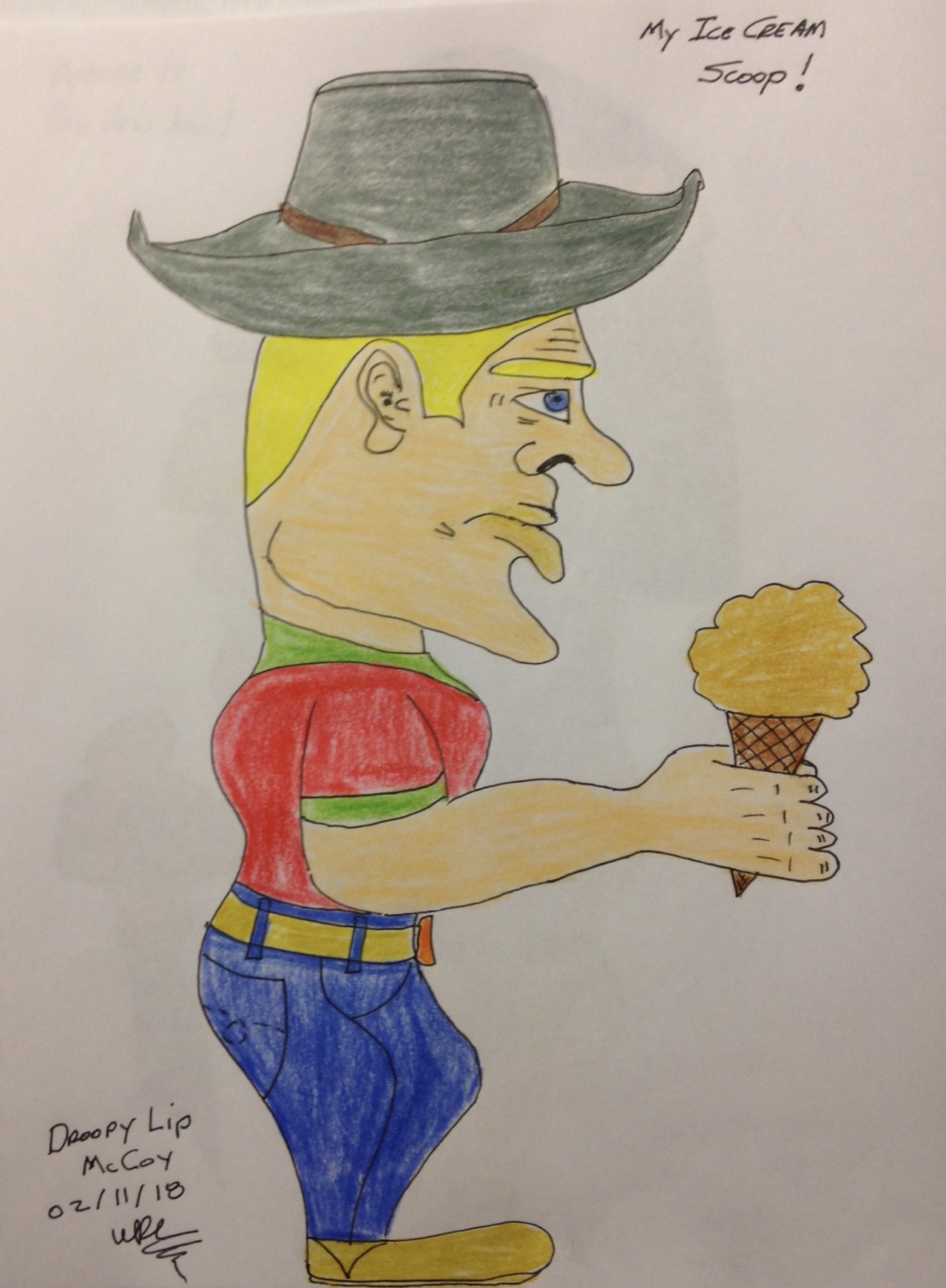 .
"Geronimo" is an Apache Indian I saw in a movie way on back,
Holding a big blade knife with an Elk horn handle ready to attack.
As I recall, Chuck Conners played Geronimo in that movie I saw,
And he was one mean Apache Indian with a temper so very raw.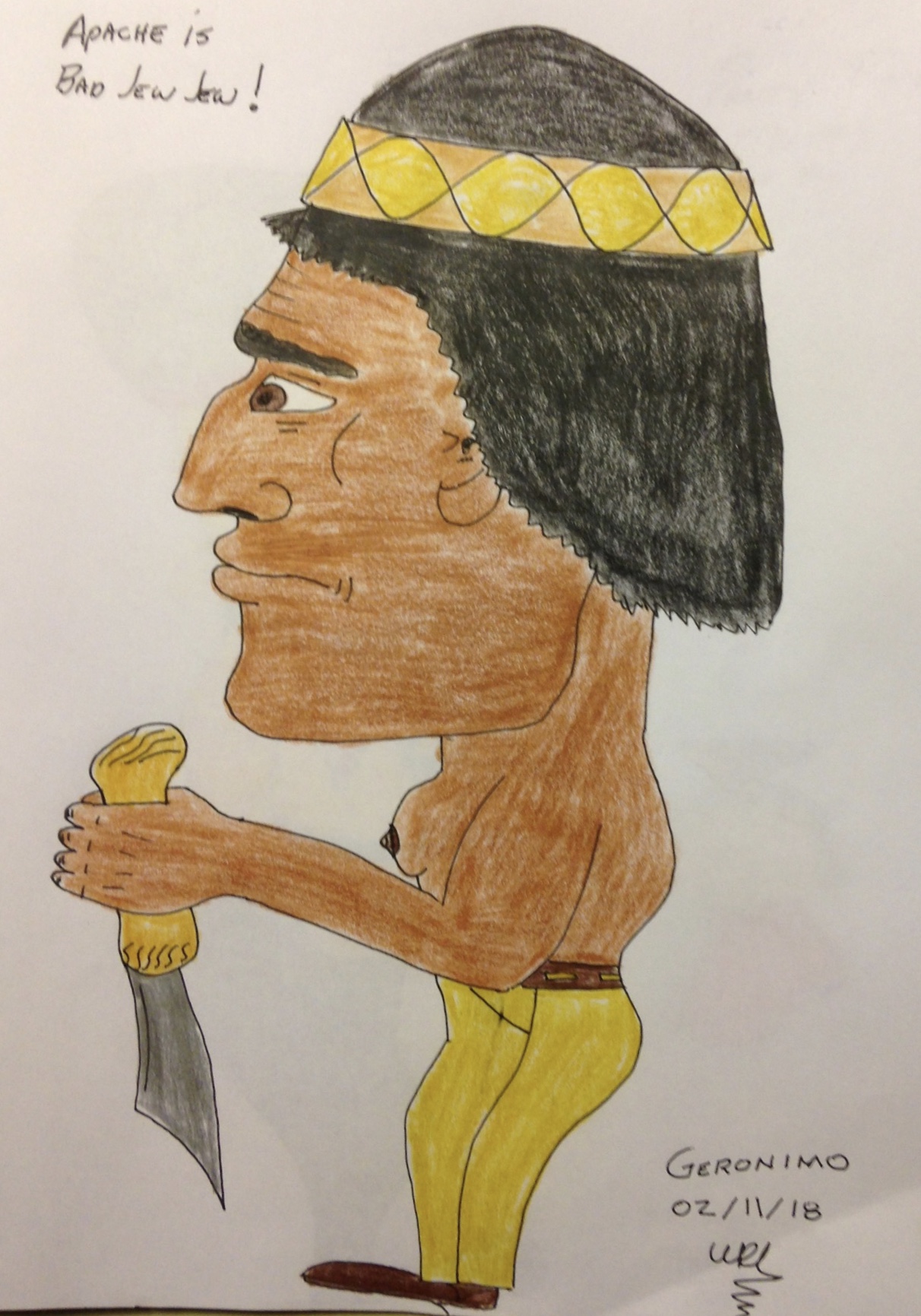 .
"Rick" could be a cousin of mine that roomed with me in 1963,
In Well's Hall at Texas Tech College attending school, you see.
We did go out on a panty raid or two while we stayed in the dorm,
Looking for a pink trophy to hang on our wall with good body form.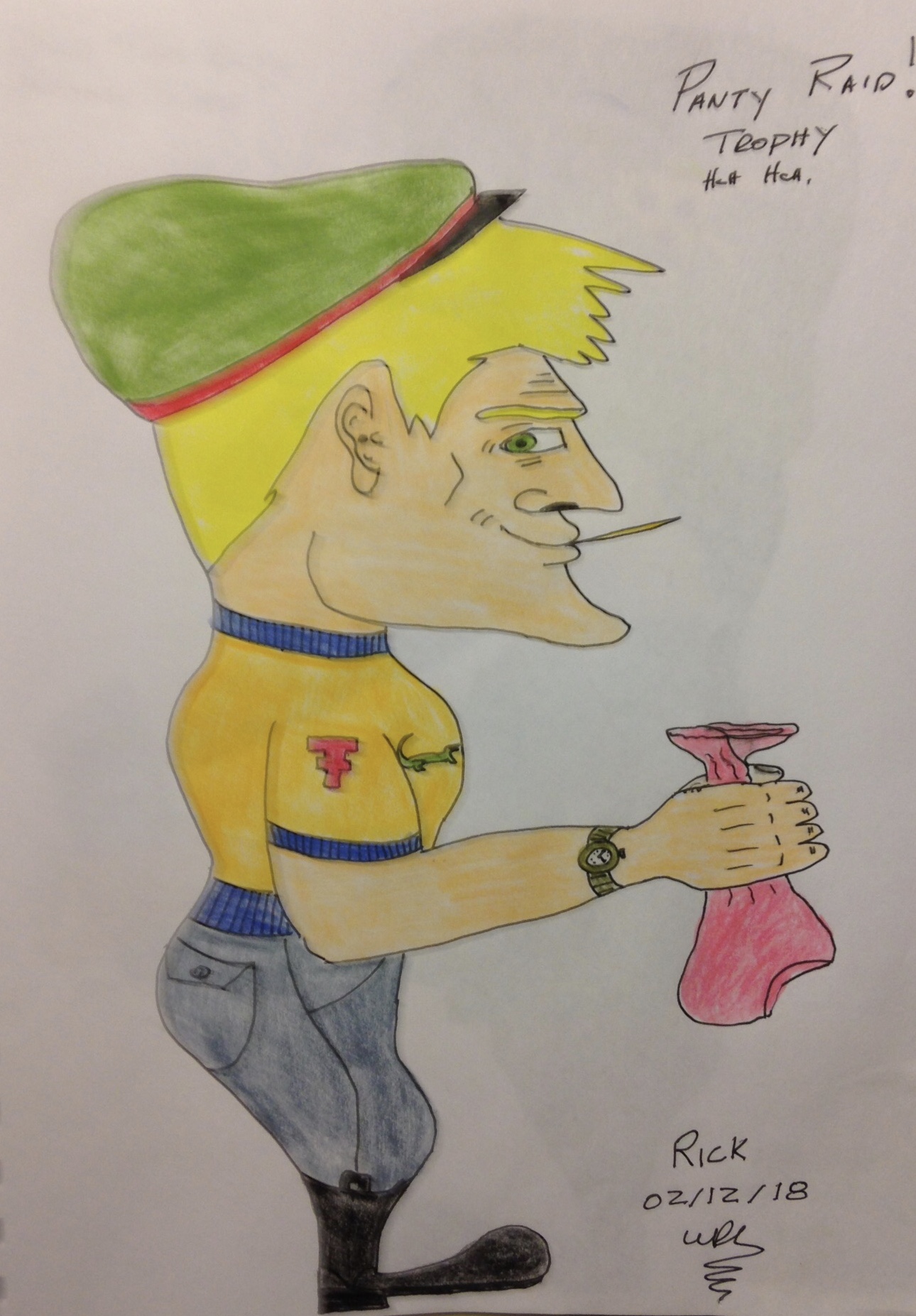 .
"Monroe" is a friend of mine that had a Harley Sportster in 1973,
Who stopped by our Fritch home in Arroyo Verde to show it to me.
I rode it around the area feeling like an Easy Rider out there so free.
When he went back to Houston, the bike was stolen on a spree.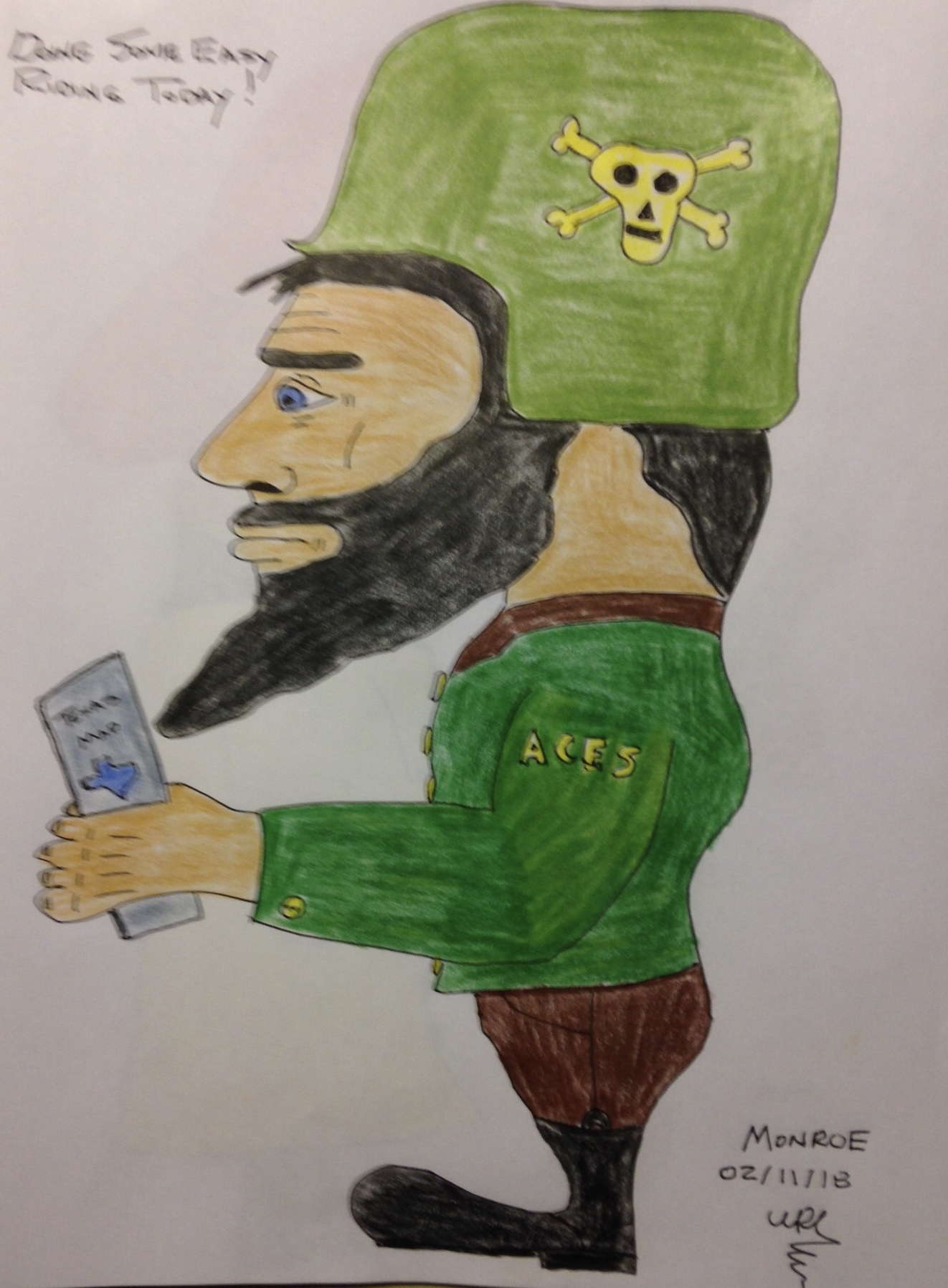 .
"John" is a volunteer fireman I knew that lived up in Dewy town,
Who was also a member of the Mickey Mouse Gang so renowned.
He square danced all over the Southwest with our special troop.
And we often played together with our families as a big group.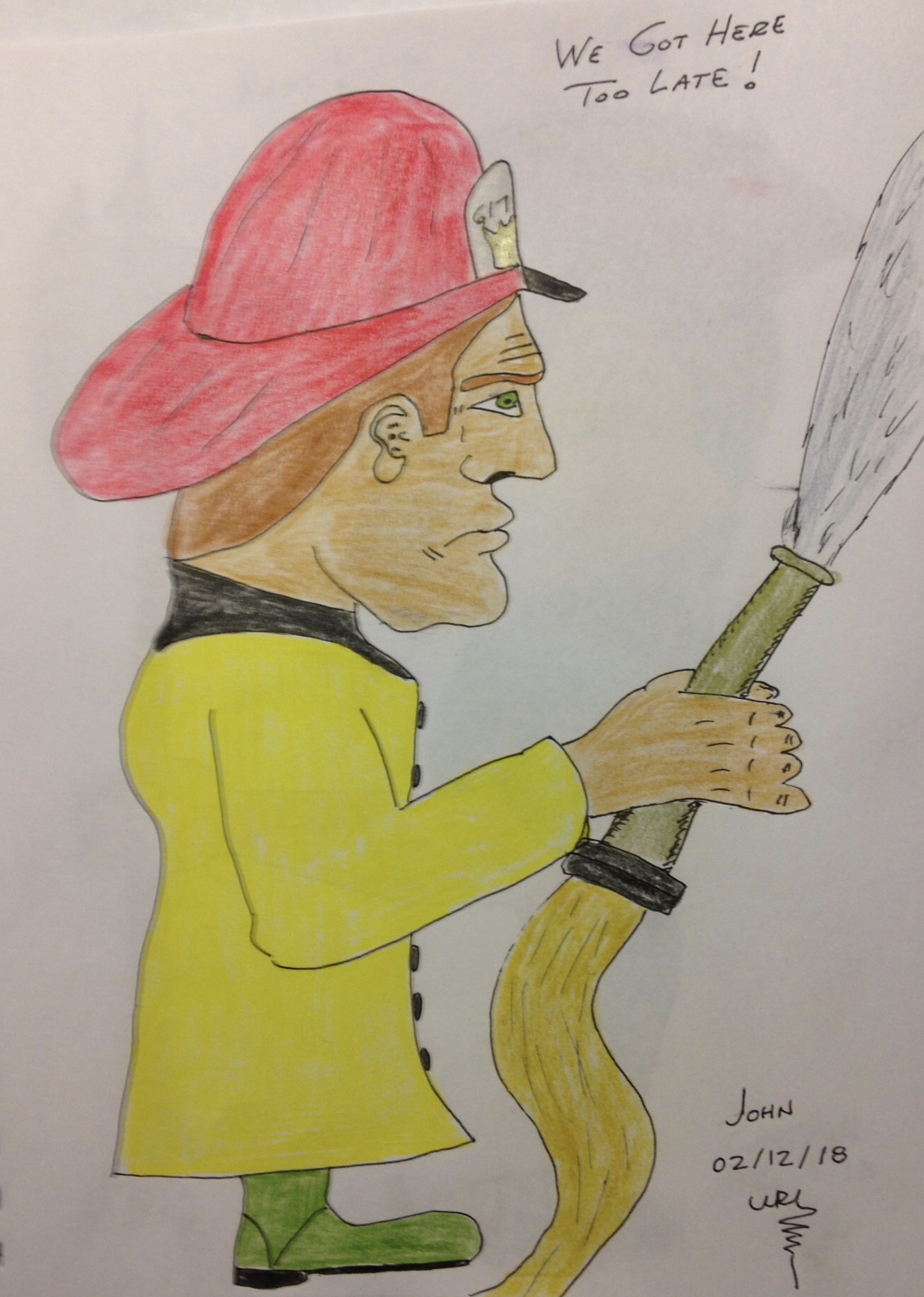 .
"Chopper" is the executioner from times of old with his big axe,
That hid his face when he sliced off heads with one big whack.
I recall in the movie called Braveheart right towards the very end,
The star got his head whacked off by this guy making us cringe.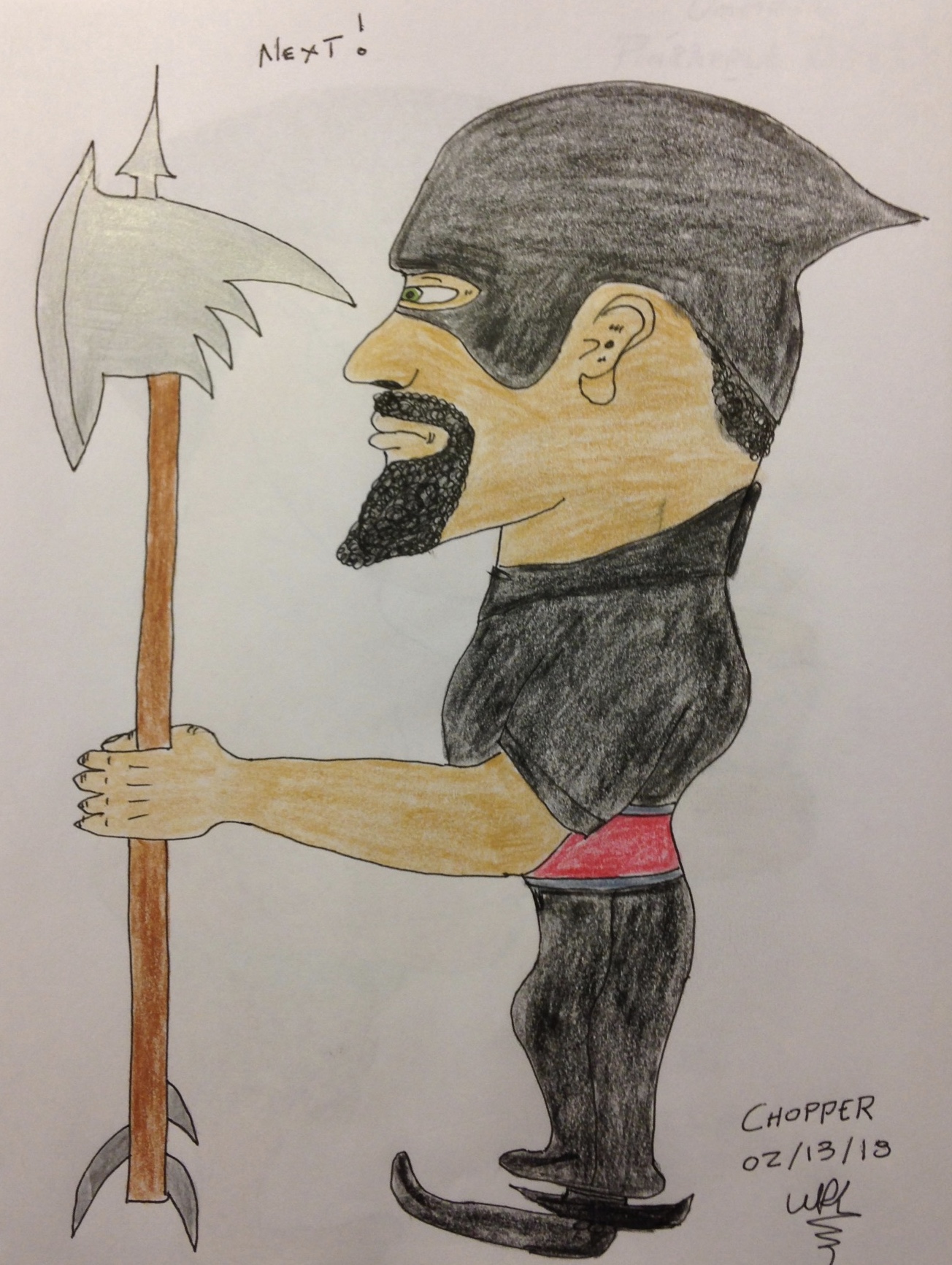 .
"Tally Ho" is a Hawaiian man who wore a funny little grass skirt,
Even though he was a little plump, with all the girls he did flirt,
Tally had a brother who's name was Don Ho, who did sing songs,
That never sounded too good to me, soft and easy not too strong.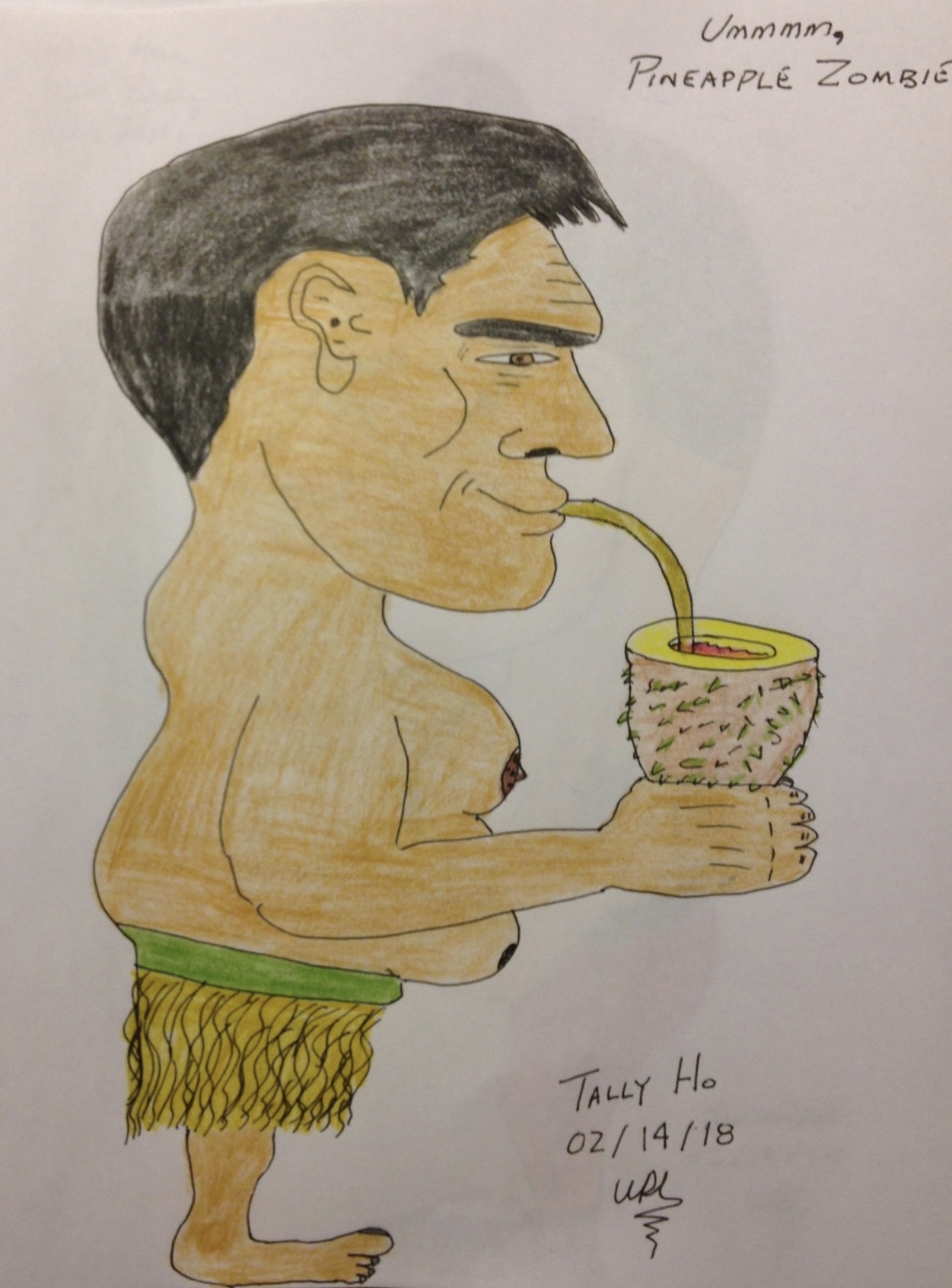 .
"Slammer" could be me as I played softball with Well's Hall crew,
In the grass adjacent to the dorm at Texas Tech with guys I knew.
We sometimes played on Saturday morning until just about noon,
I drew up this character from that memory resulting in this toon.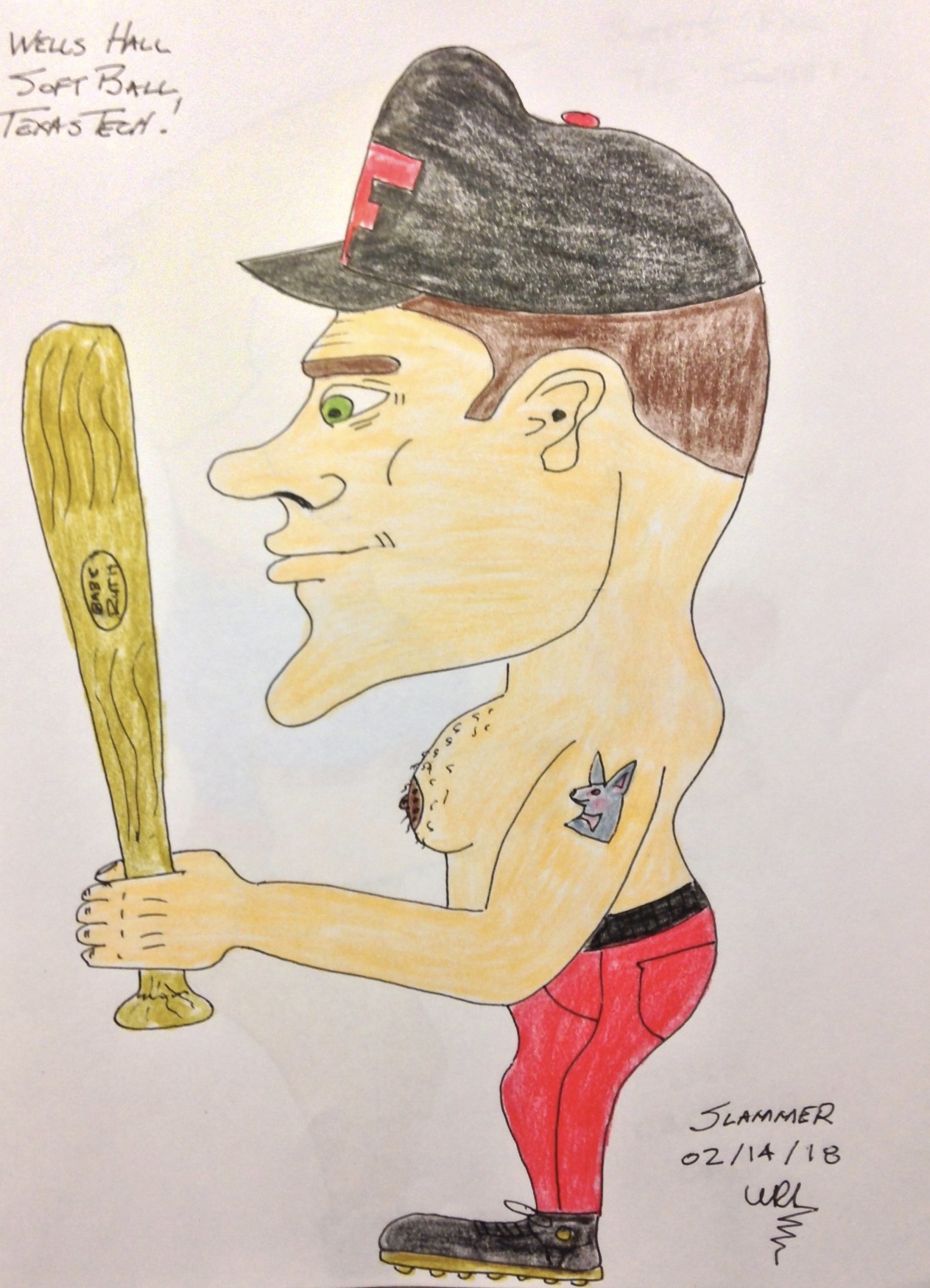 .
"Slick" is a guy I drew for Pam for her valentine to make her happy,
It worked a while that day but after a bit she got a little snappy.
So I had to take her out to dinner on that special day for a steak.
To get out of the doghouse and improve my standing from snake.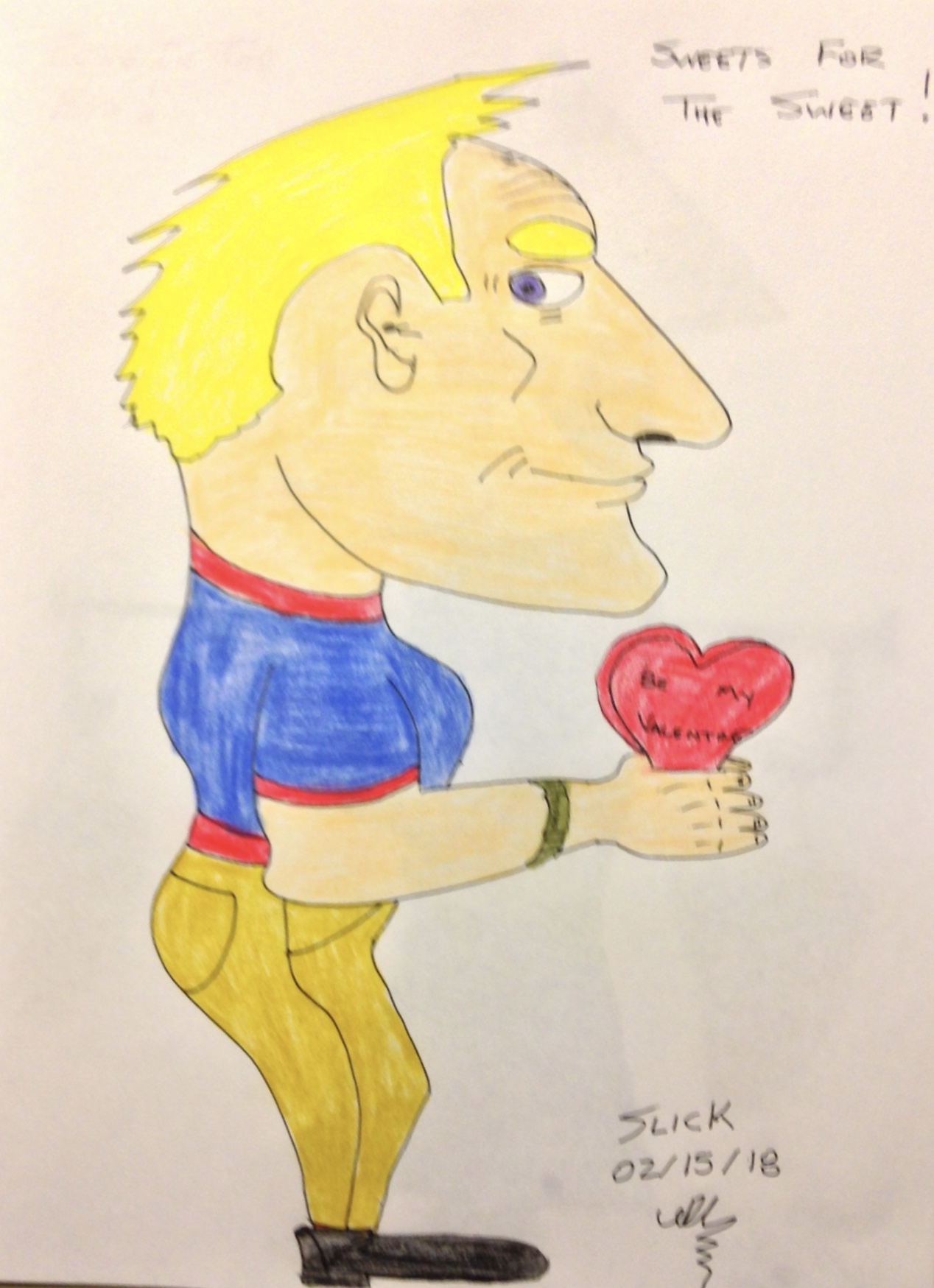 .
By Bill
.
Thanks for reading Sooner Toons,
Bill