Howdy Doody
.
Howdy Doody sounds like you are saying hello to a turd,
But actually, it's the name of a wooden puppet I heard,
That had his own television show that I did regularly see,
On Saturday mornings in black and white there on the TV.
.
Howdy Doody
.
Howdy Doody was a TV show that ran from 1947 to 1960,
That I watched Saturday morning a lot in the early 1950s.
Howdy Doody was a marionette puppet hanging on strings,
With freckles, rosy cheeks, and blue eyes, a cute little thing.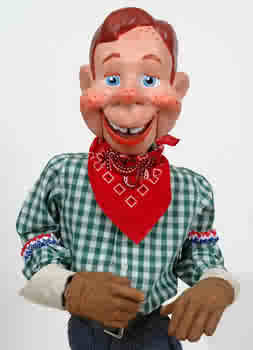 Howdy Doody
.
There was a guy named Buffalo Bob that announced the show,
That had originated Howdy Doody on a talk show on the radio.
So Buffalo Bob kept things moving for the boys and girls to see,
With a lot of kind of stupid looking characters for you and me.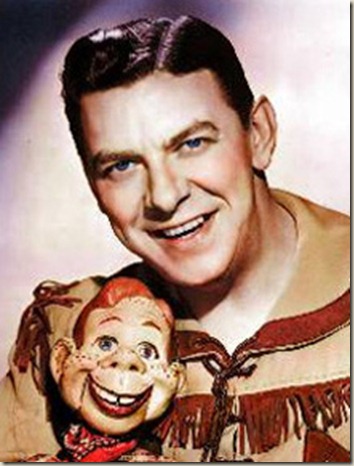 Buffalo Bob with Howdy Doody
.
There was a very strange looking clown on the show everyday,
That I always thought looked just like a serial killer there at play,
But I guess the costumes were just not too good in those days,
As I watched Clarabell with his stupid antics acting so gay.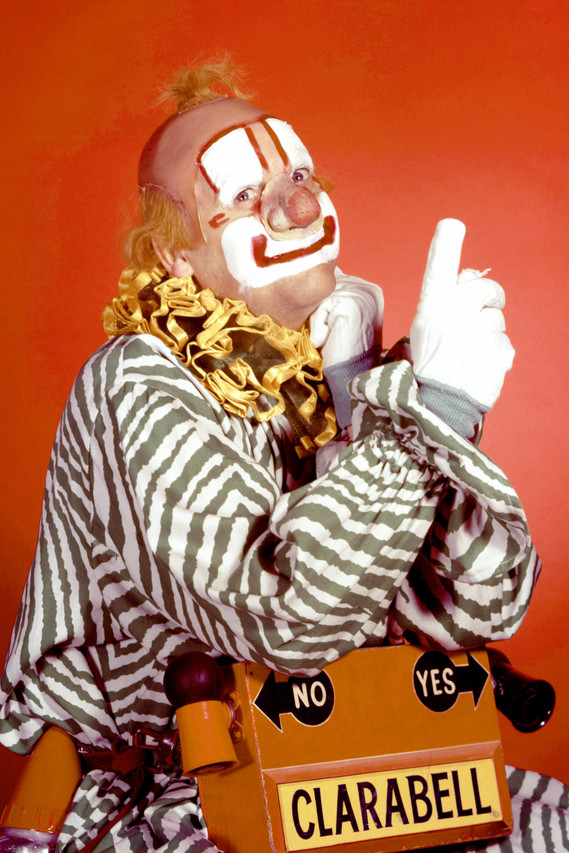 Clarabell I guess.
.
I wasn't sure whether Clarabell was a male of female clown,
As I watched that silly show, I wondered why they had found,
A name that seemed to me like it should have been for a cow,
Like Disney had portrayed the character as a female somehow.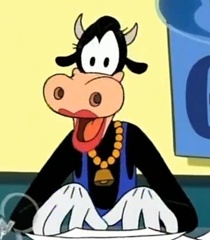 Disney character "Clarabell" which seemed much better to me.
.
There was another weird character called Chief Thunderthud,
That looked much like a big sissy Indian, kind of a real dud.
Perhaps the reason we liked the show was the silly characters,
That acted stupid appealing to our crazy side making us merrier.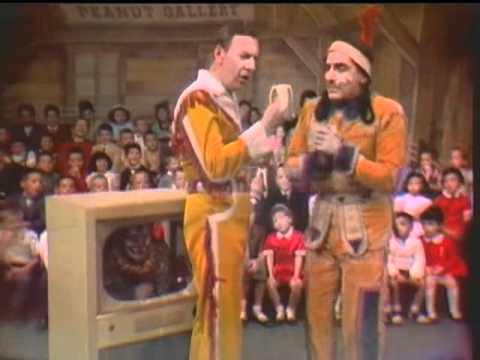 Chief Thunderthud with Buffalo Bob.
.
There was another marionette puppet on the show at times,
Called Phineas T. Bluster who was of the high classed kind,
Wearing glasses hanging way on out on the end of his nose,
And a derby hat with a dress coat and vest for his best pose.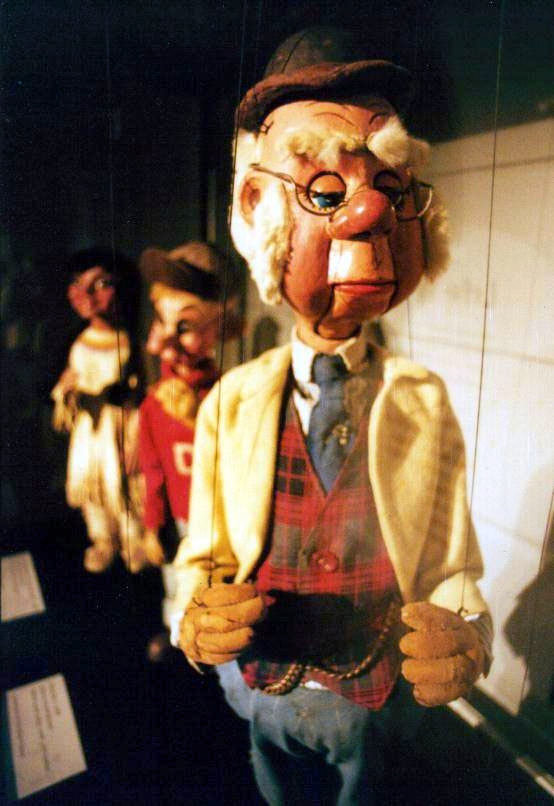 Phineas T. Bluster with strings
.
I recall there was always local contests going on all around.
To find a boy that looked most like Howdy Doody in small towns.
There was one year that I might have won the contest back then.
As I did look a lot like Howdy Doody with my freckles and grin.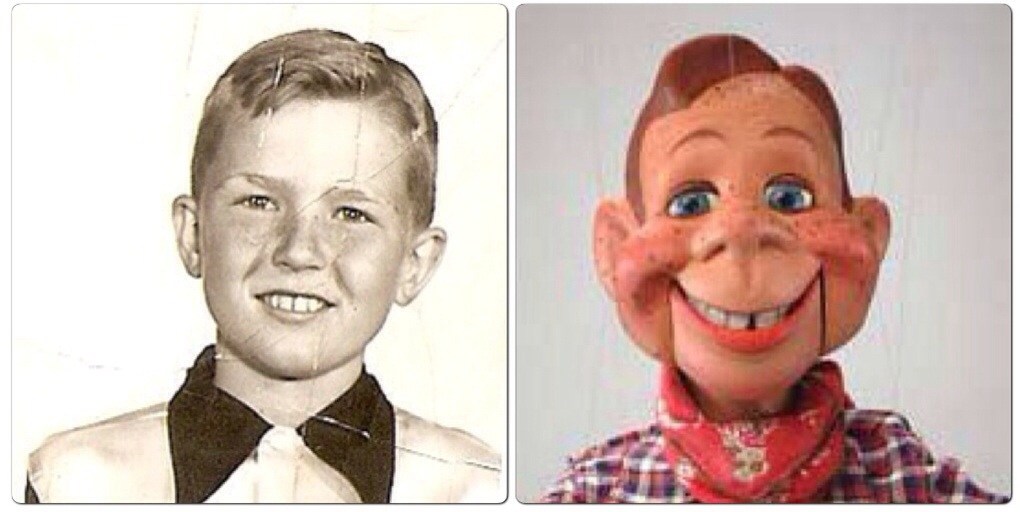 I might have won in a look alike contest.
.
I must have liked that show a lot back in those days as a child,
Even though it seems so stupid seeing the characters so wild.
Now as an old man sitting here thinking in my old easy chair,
I still remember some commercials on the show they did air.
.
Buster Brown shoes aired a commercial that to me was so gay,
On every Saturday show, you did always hear Buster Brown say,
"Hi, I'm Buster Brown, I live in a shoe, arf arf, that's my dog Tige,
He lives in here too." while winking so big with his own right eye.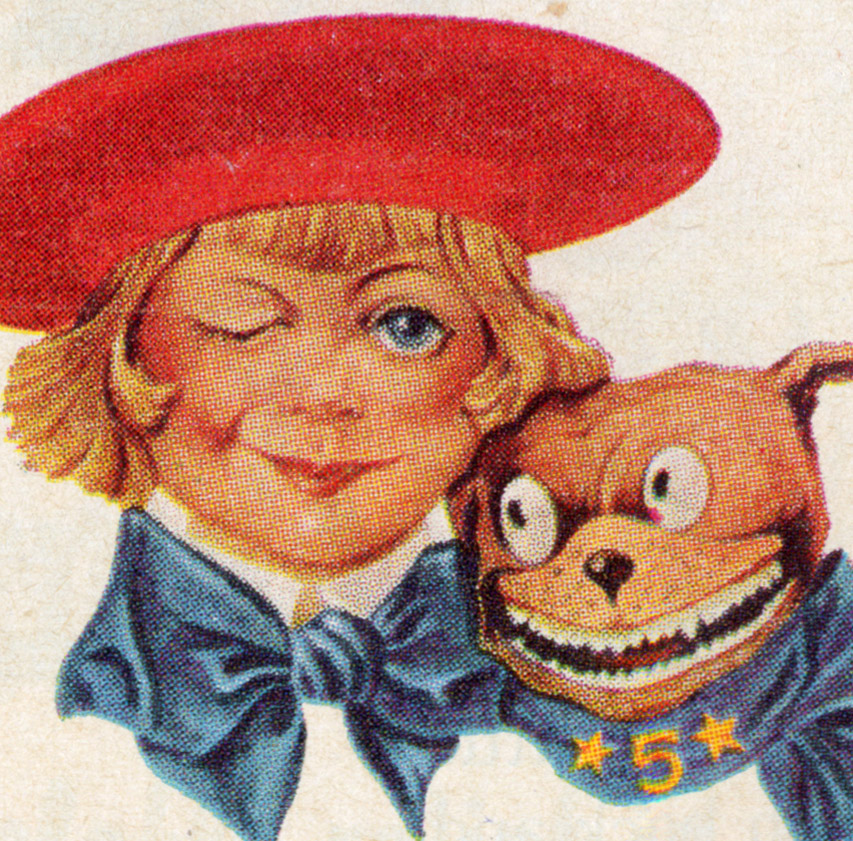 Buster Brown and Tige.
.
Poll Parrot shoes was also a sponsor for the Howdy Doody show,
I still remember that commercial jingle Poll Parrot sang on the go,
"Poll Parrot, Poll Parrot, are the shoes you want to buy,
They'll make your feet run faster, as fast as I can fly."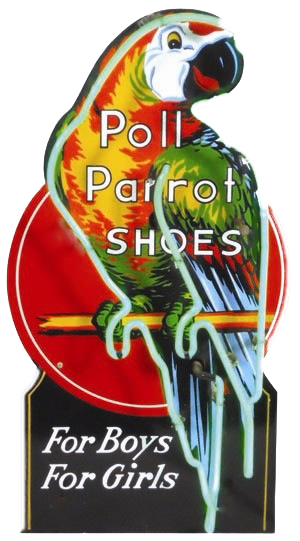 Poll Parrot
.
By Bill
.
Thanks for reading Howdy Doody,
Bill