Apple TV and iCloud – Photos on the Big Screen
Apple TV gives you access to High Definition streaming from various apps available such as Netflix and many more directly to your big screen TV. You must have Wi Fi available to enable streaming through the Apple TV. The very small device is quite simple with only a 120 volt power cord and an HMDI cable which connects directly to an input connection on your TV.
The photo below shows a few of the apps available on the applications screen. If you will notice on the photo, one of the apps is called "iCloud Photos". Using this app gives you access to all of the iCloud photos that you have on your iPad, This includes your cloud and all the family members and friends you are connected to on the iCloud!
I watch them for hours sometimes.
So I can see all of those wonderful pictures of my grandchildren and family on my 55 inch Sony TV. I love this feature as my old eyes can see the large photos much better than the smaller ones! I see a lot of detail I would likely miss otherwise! You can look at them slowly one at a time with or without the captions that have been added! You can also select from about 20 styles of slideshows to make the photos randomly or sequentially flow on the big screen as long as you want them to. I watch them for hours sometimes. My personal favorite slideshow is the "origami ".  If you haven't tried it, yet, it is a must.
You can get directions on how to use iCloud Photos with Apple TV here!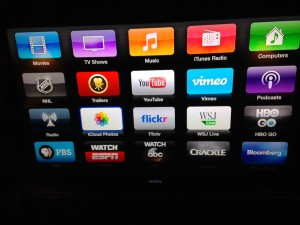 Thank you for reading Apple TV and iCloud.
Hawg Jaw Bill